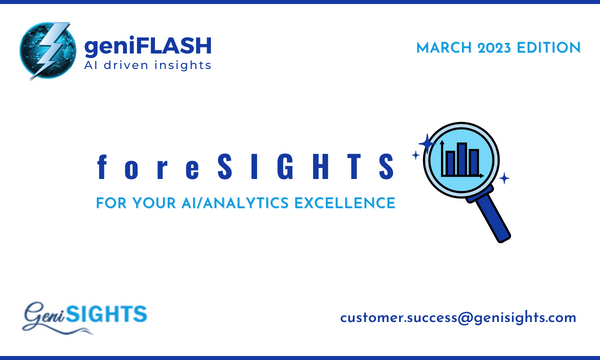 Dear Valued Readers,
Welcome to our third edition of foreSIGHTS newsletter for this year.
In this edition, we would like to highlight the following topics:
What's trending? Google announces AI features in Gmail, Docs, Sheets, more
Latest Updates: Chat GPT 4 will make you a Super Human!
geniSIGHTS Updates: geniSIGHTS @ NIdhi accelerator to showcase its relevance to Manufacturing domain in front of GOI panel
geniFLASH Interactive session at IIT Madras Research Park on the 23rd of March: Join us for a session where our experts will be discussing the latest trends and best practices in AI and Business Intelligence.
We hope you find this edition informative, and we look forward to connecting with you soon!
Best Regards,
Team geniSIGHTS
---
What's trending? Google announces AI features in Gmail, Docs, Sheets, more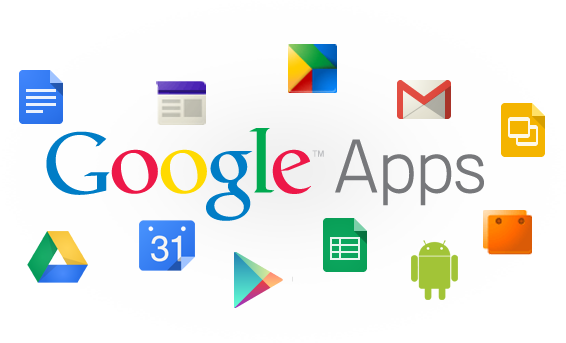 Google has announced new generative AI features for its Workspace apps, including Google Docs, Gmail, Sheets, Slides, Meet, and Chat.
With the new AI features, users will be able to draft, reply, summarise and prioritise their Gmail. In Docs, they will get to brainstorm, proofread, write, and rewrite, while in Slides, they will get to bring their creative vision to life with auto-generated images, audio, and video.
Moreover, in Sheets, users will be able to go from raw data to insights and analysis via auto-completion, formula generation, and contextual categorisation, while in Meet, they will be able to generate new backgrounds and capture notes. In Chat, the new AI features will enable workflows for getting things done for users. "We'll launch these new experiences this month via our trusted tester programme, starting with English in the US. From there, we'll iterate and refine the experiences before making them available more broadly to consumers, small businesses, enterprises, and educational institutions in more countries and languages," Google said in a blogpost.
Meanwhile, Google is reportedly working on a new "Search Companion" feature for its web browser Google Chrome. he Search Companion will be a helpful new way to search the web using Lens. With the new feature, the tech giant aims to bring a deeper connection between Lens and Chrome.
---
Chat GPT-4 is here: All you need to know about the AI tool from OpenAI
CAPABILITIES OF GPT-4:
USE IT FOR EXAM PREPARATION:
GPT-4 is 82% less likely to respond to requests for disallowed content than its predecessor and scores 40% higher on certain tests of factuality. It will also let developers decide their AI's style of tone and verbosity.
For example, GPT-4 can assume a Socratic style of conversation and respond to questions with questions. The previous iteration of the technology had a fixed tone and style.
The latest version has outperformed its predecessor in the U.S. bar exam and the Graduate Record Examination (GRE). GPT-4 can also help individuals calculate their taxes, a demonstration by Greg Brockman, OpenAI's president, showed.
CONVERTS A WEBSITE HANDMADE SKETCH TO CODE:
Chat GPT could take a photo of a hand-drawn mock-up for a simple website and create a real one by providing the code for the website.
Chat GPT can provide you with step-by-step prompts for Chrome extensions as per your prompt.
UNDERSTAND WHAT'S HAPPENING IN IMAGES:
When you upload an image, it can give you the context of the image you've uploaded along with the answers to the query you've asked for. This version of Chat GPT can even understand the humor in the image.
BUILD VIDEO GAMES IN MINUTES:
With an appropriate prompt, if you wanted to create a "Super Mario Game", it could provide HTML code to make a "Super Mario Game" on a website. All you need to do is copy and paste the HTML code, and you'll get a fully functional game at the very end. Similarly, you could create other such games with a given prompt.
LIMITATIONS OF GPT-4:
According to OpenAI, GPT-4 has similar limitations as its prior versions and is "less capable than humans in many real-world scenarios." Inaccurate responses known as "hallucinations" have been a challenge for many AI programs, including GPT-4.
OpenAI said GPT-4 can rival human propagandists in many domains, especially when teamed up with a human editor. It cited an example where GPT-4 came up with suggestions that seemed plausible when it was asked about how to get two parties to disagree with each other.
OpenAI Chief Executive Officer Sam Altman said GPT-4 was "most capable and aligned" with human values and intent, though "it is still flawed." GPT-4 generally lacks knowledge of events that occurred after September 2021, when the vast majority of its data was cut off.
WHO HAS ACCESS TO GPT-4?
While GPT-4 can process both text and image inputs, only the text-input feature will be available to Chat GPT Plus subscribers and software developers, with a waitlist, while the image-input ability is not publicly available yet. The subscription plan, which offers faster response time and priority access to new features and improvements, was launched in February and costs $20 per month. GPT-4 powers Microsoft's Bing AI chatbot and some features on language learning platform Duolingo's subscription tier.
---
geniSIGHTS @ NIDHI accelerator to showcase its relevance to Manufacturing domain in front of GOI panel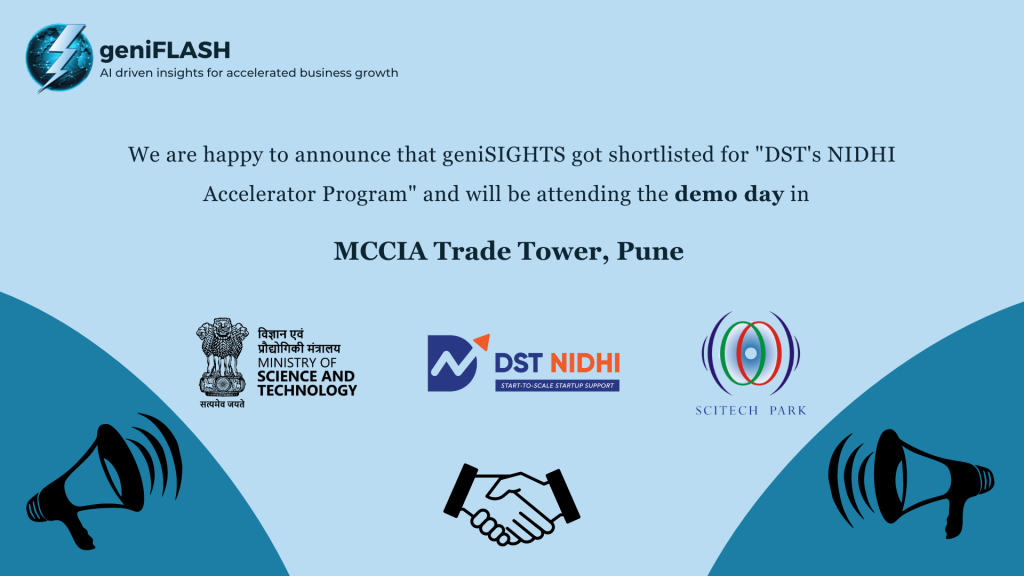 We are thrilled to share the news that GeniFLASH has been shortlisted to present at the upcoming Government of India meeting in Pune on the 29th of March. This is an incredible achievement for our team, and we are proud of the hard work and dedication that has led us to this national stage.
The team is excited to showcase our innovative wares to a wider audience and make a mark with our product in 2023. This moment of glory and pride is a testament to the power of hard work and determination. We are grateful for the recognition and opportunity to demonstrate our expertise in the field of business intelligence.
we also want to express our gratitude to the Government of India for this incredible opportunity. We are humbled and honored to have been shortlisted, and we look forward to making the most of this momentous occasion.
---
Exclusive Interactive session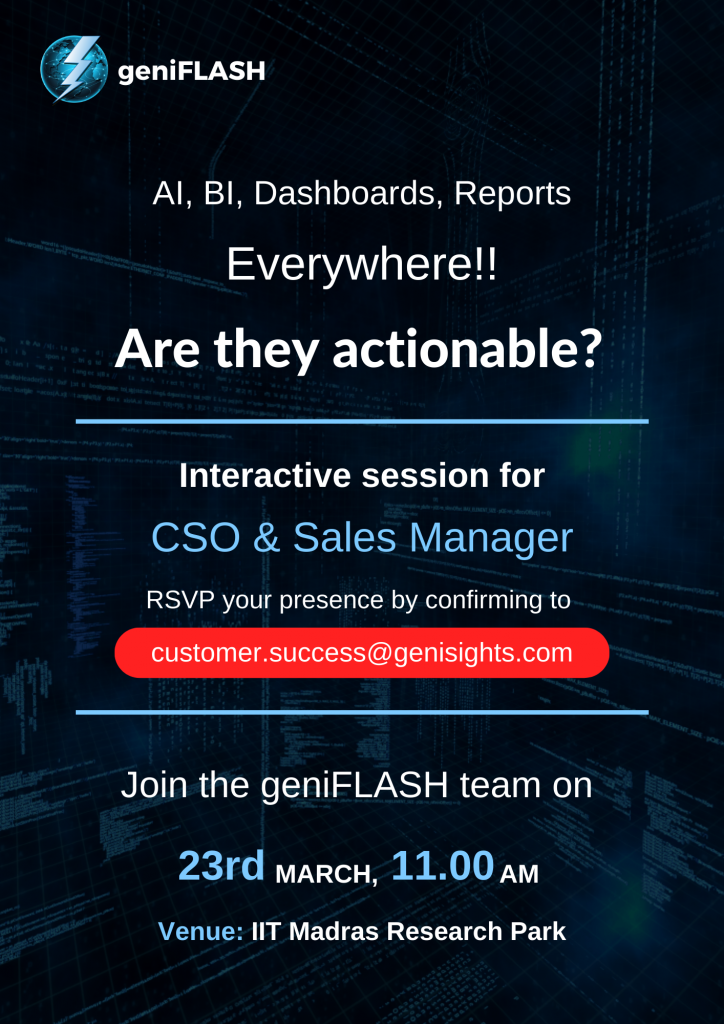 We invite you to an interactive session on geniFLASH, a revolutionary artificial intelligence (AI) powered BI product that makes the AI journey super simple and actionable. geniFLASH AI analyses the past behavior/patterns and enables the business users to get customized recommendations and actionable insights.
It helps organizations
– 50% Improvement in Productivity
– 66% Savings on spend
– 95% Reduction in development
This interactive session will provide you with a comprehensive overview of geniFLASH and its capabilities, as well as the opportunity to see it in action. Our team of experts will be available to answer any questions you may have and to demonstrate how geniFLASH can help your business harness the power of AI to drive innovation and growth.
The event will take place on 23rd March, 2023 at 11 AM at IIT M Research Park Alumini Centre.
We hope you can join us for this exciting and informative event. If you have any questions or need further information, please don't hesitate to contact us. RSVP your participation to customer.success@genisights.com
---