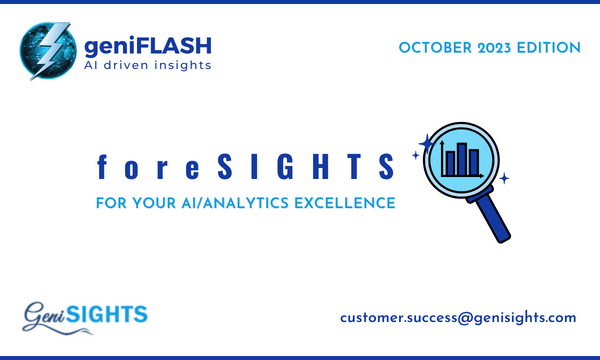 In a world full of constantly changing technology and information, this monthly newsletter is to keep you up-to-date on the latest trends that will impact your business. I hope you enjoy it!
We'd love to engage with you to provide you with the content you would like to hear from us. You can suggest content by reaching out to us at customer.success@genisights.com. Thank you!
Best Regards,
Team geniSIGHTS
In this edition, we would like to highlight the following:
Are your meetings having a real impact?
AI versions of celebrities on social media…
Rethink Your Workforce Plan in the Era of Generative AI
geniSIGHTS: Partner Enablement program
geniFLASH: CXO event
Fun Corner: How did Nancy overcome her sales challenges?
If you find this article valuable, please comment to let me know and repost to share with your network. What do you mean you haven't subscribed? That's how you get it delivered straight into your feeds.
Best Regards,
Team geniSIGHTS
---
Are Your Meetings Driving Real Impact?
Have you ever been in a meeting that seemed smooth but ended up wasting your time? Well, you're not alone. Meetings can sometimes look good on the surface but not really achieve anything. That's where GeniFLASH comes in to save the day.
Meetings can be a problem for a few reasons:
No Real Data
Unclear Outcomes
Repeating the Same Stuff
Missing Opportunities
We can help with all of these problems with geniFLASH:
geniFLASH brings in real-time data to back up your discussions. This means you're making decisions based on facts, not just guesses.
With geniFLASH, you can predict what might happen next, helping you make plans before things go wrong.
You can also play around with different ideas and see what might work best. It's like having a practice run for decisions.
geniFLASH makes it easy to figure out who's responsible for what, and you can check the progress too.
Everyone can work together on GeniFLASH, so you're all on the same page and don't need to repeat stuff.
So, in simple words, if you're tired of boring, unproductive meetings, give geniFLASH a try. It'll make your meetings more useful and save you time. No more wasting precious minutes—make your meetings count with GeniFLASH.
---
Meta lets you chat with AI versions of celebrities on social media… sorta.
The words "Like something out of a Black Mirror episode" are becoming an increasingly trite — but accurate — way to describe the impact of AI in 2023.
Meta introduces celeb AI conversational characters and is now rolling out its series of artificial intelligence chatbots on Instagram that bears a strikingly similar resemblance to some of the top celebrities, such as Brady, Kendall Jenner, and Paris Hilton
The company has debuted a line of 28 new AI assistants modeled after celebrities, with some acting as new characters within their same careers or others adopting an entirely new persona. Each AI will specialize in answering questions in specific categories, according to Meta's press release on Oct. 5.
During the virtual event Meta Connect on Sep 27–28, the platform previously known as Facebook launched 28 AI characters that you can socialize with, I guess. But here's the twist: some of the characters (which come with their own names) are played by an AI trained on the personalities of famous celebrities and public figures. Meta insists that:
"the familiar faces are representing the characters, not themselves"
For those stateside, this isn't a preview of coming attractions; it's playing out now. Meta's celebrity bots have been released in Beta, with a broader global rollout shortly. I've included links below so you can interact with their social profiles by sending them a message on Instagram or Messenger.
Meta really is being "meta" right now.
AI impersonating familiar human faces, playing fictional roles, and sliding into your DMs on Messenger, Instagram, or WhatsApp is about as meta-textual as you can get, and that's three degrees of simulation (four if you count that the humans are the public faces of the celebrities and not really authentically themselves).
---
Rethink Your Workforce Plan in the Era of Generative AI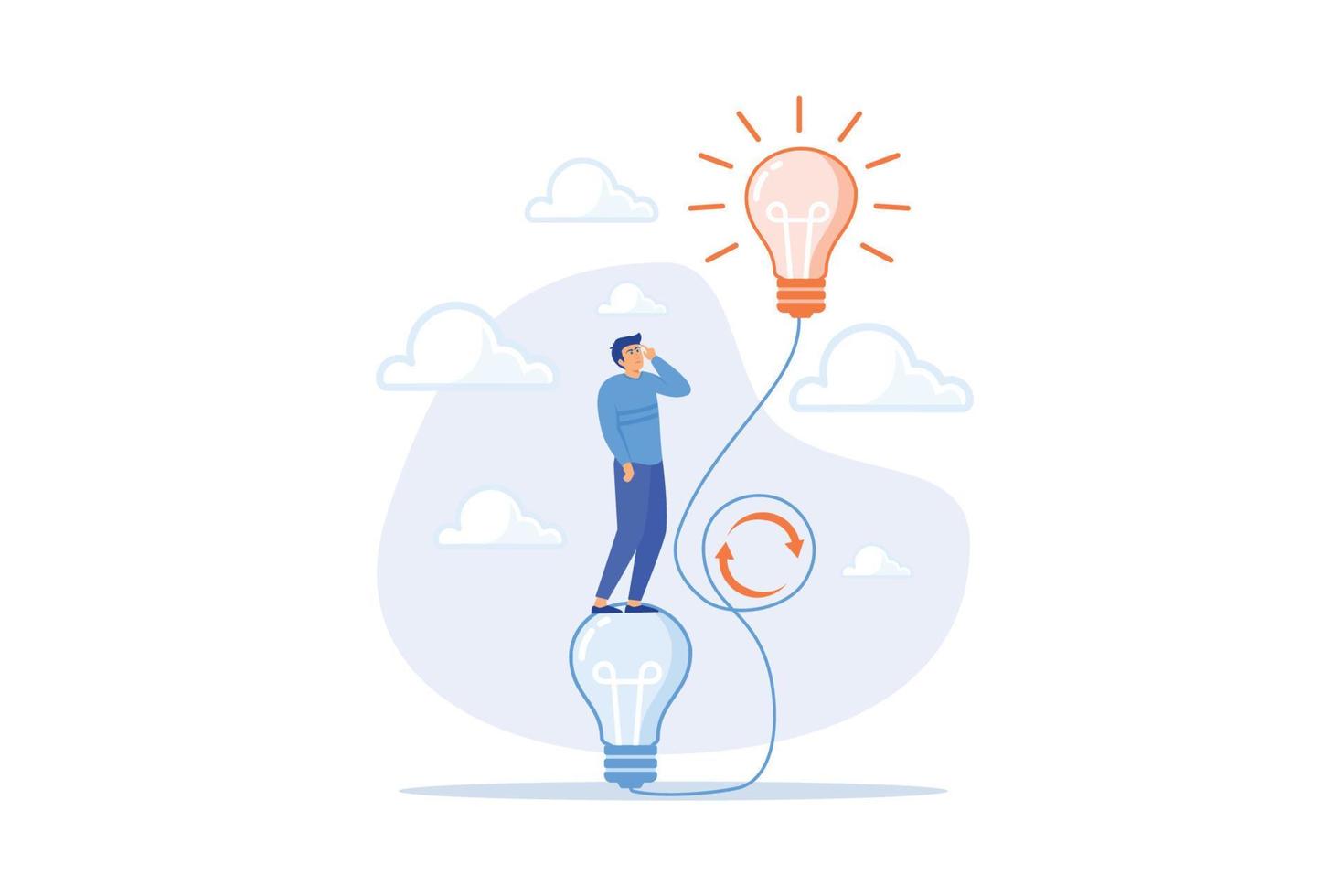 If you have not significantly revised your workforce plan since chatGPT took over social media like a storm, you will be unpleasantly surprised soon.
Harvard Business School and Boston Consulting Group find generative AI significantly increases the productivity and quality of work by knowledge workers.
"For each one of a set of 18 realistic consulting tasks within the frontier of AI capabilities, consultants using AI were significantly more productive (they completed 12.2% more tasks on average, and completed task 25.1% more quickly), and produced significantly higher quality results (more than 40% higher quality compared to a control group). Consultants across the skills distribution benefited significantly from having AI augmentation, with those below the average performance threshold increasing by 43% and those above increasing by 17% compared to their own scores."
The latest study finds that management consultants work 25.1% faster and 40% better by using ChatGPT and other LLM, and underperformers receive an even bigger boost.
CXO Interactive Session
We're hosting a special event for CEOs, Founders, CSOs, and Sales Head and we'd love to have your organization there.
📅 Date: 10th Novenmber 2023
⏰ Time: 11AM – 1PM
🏢 Venue: IIT Madras Research Park
While this event is usually by invitation, we're open to your organization's interest. Just email us at customer.success@genisights.com to let us know you'd like to join. Don't miss this opportunity!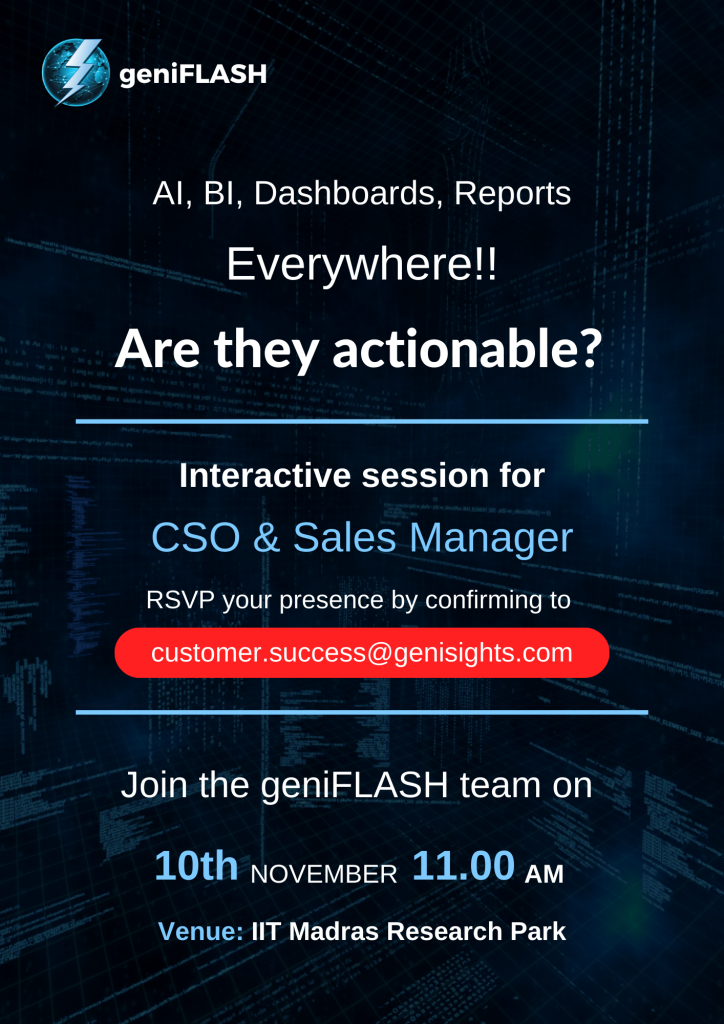 Join us to:
📊 Explore Sales Trends: Stay ahead of the curve and outpace your competition by diving into the latest sales trends and strategies.
🌟 Harness geniFLASH for Success: Discover how to leverage geniFLASH to achieve sales success like never before.
🤝 Network & Learn: Connect with peers and industry experts, participate in expert-led workshops, and broaden your knowledge base.
🔍 Gain Business Intelligence Insights: Get a competitive edge with in-depth business intelligence insights that will propel you forward.
---
geniFLASH Update: Launch Partner enablement program
An opportunity to scale with geniFLASH, our patented AI solution that provides actionable insights and recommendations from your data.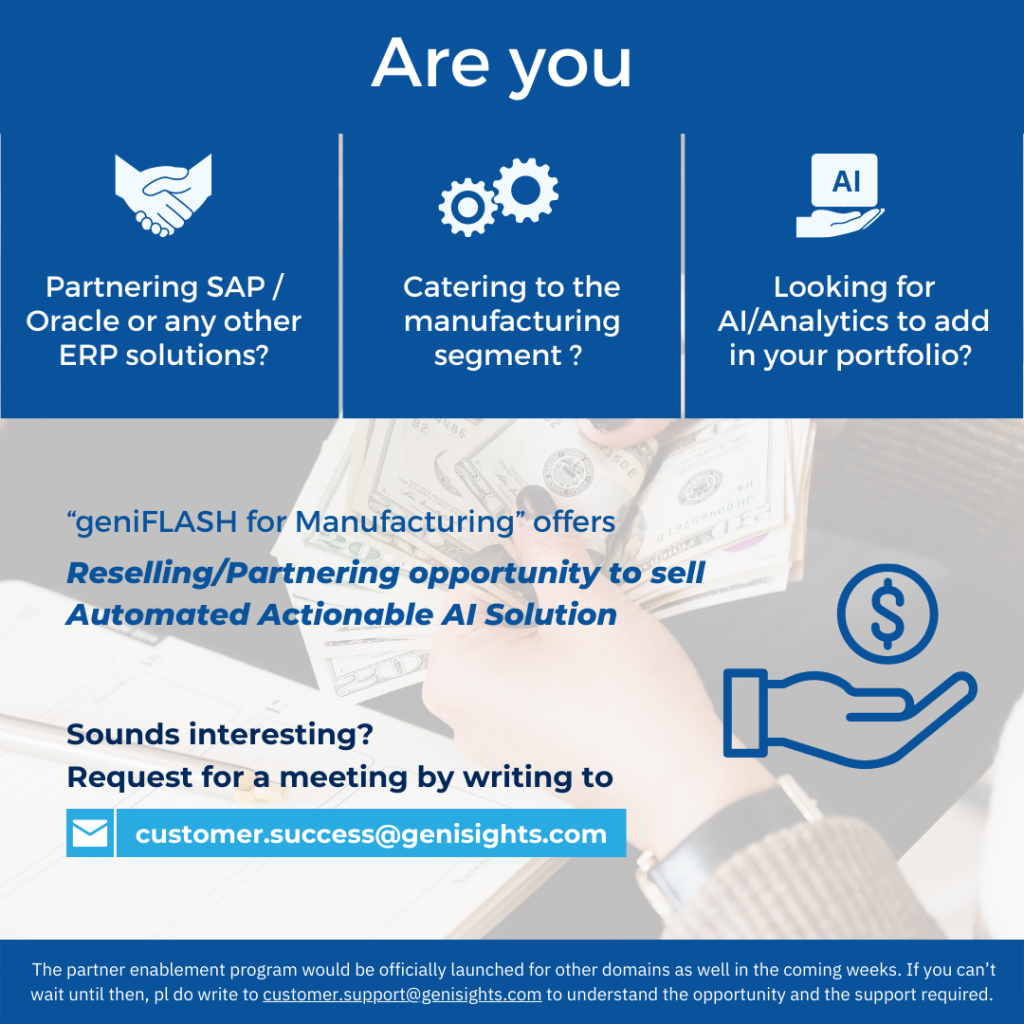 ---
Fun Corner:
A Tale of Struggle and Redemption in the World of Sales: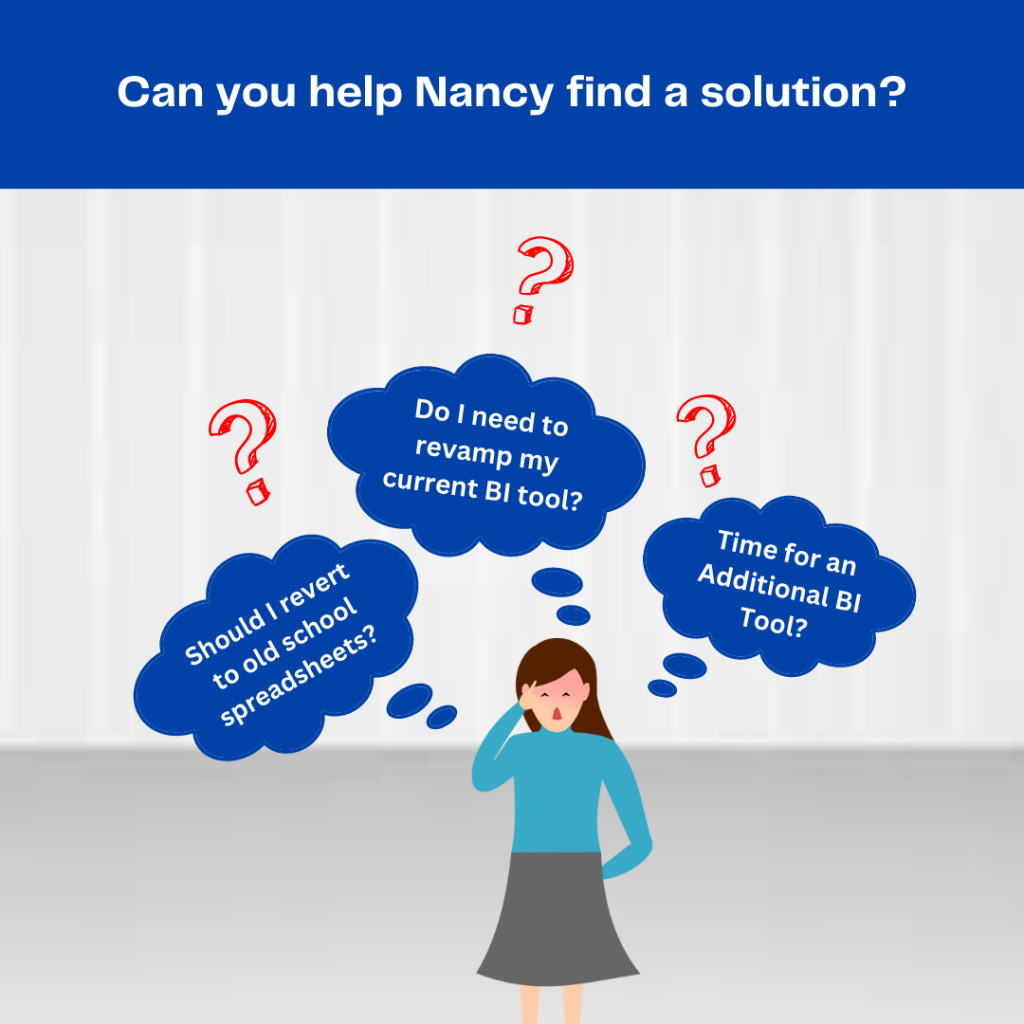 Nancy, a sales manager, was in trouble at work. Her boss criticized her team's performance and wanted them to do better. She wasn't sure how to fix it.
They had a Business Intelligence tool, but it was too complicated and didn't have everything they needed. Her team also used their own spreadsheets, which made things even more confusing.
The biggest problem was that when they reviewed their work, everyone got defensive, and it caused conflicts.
How did Nancy overcome her sales challenges?
Ready for professional growth and transformation? Join Nancy as she conquers challenges, unlocks solutions, and leads her team to success.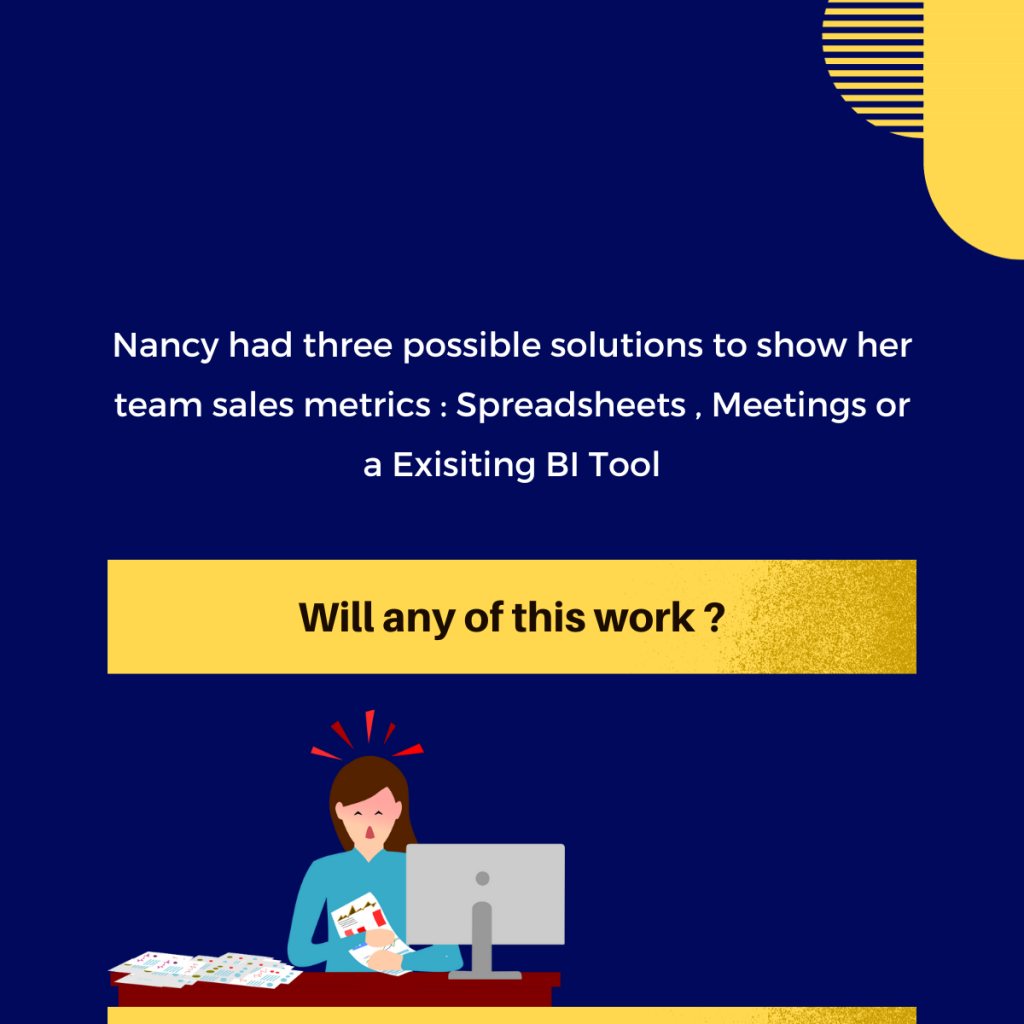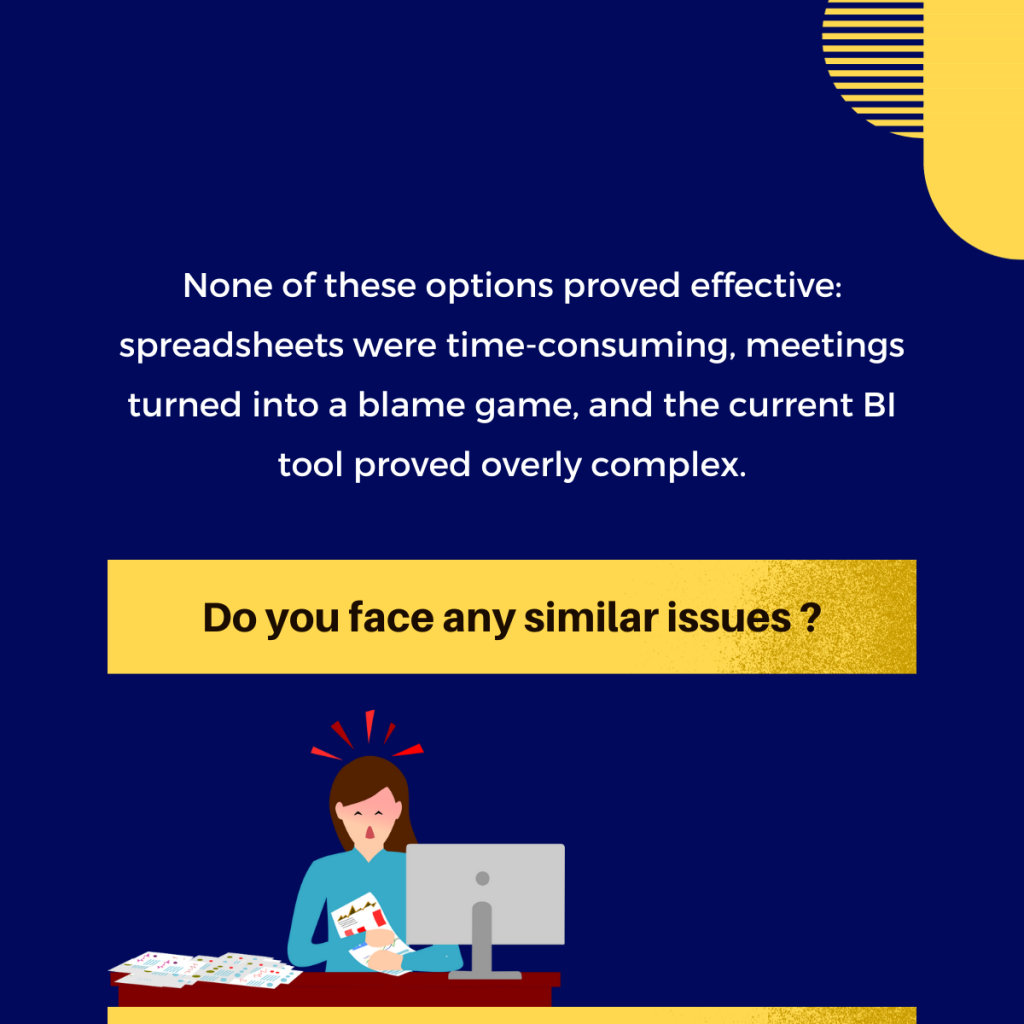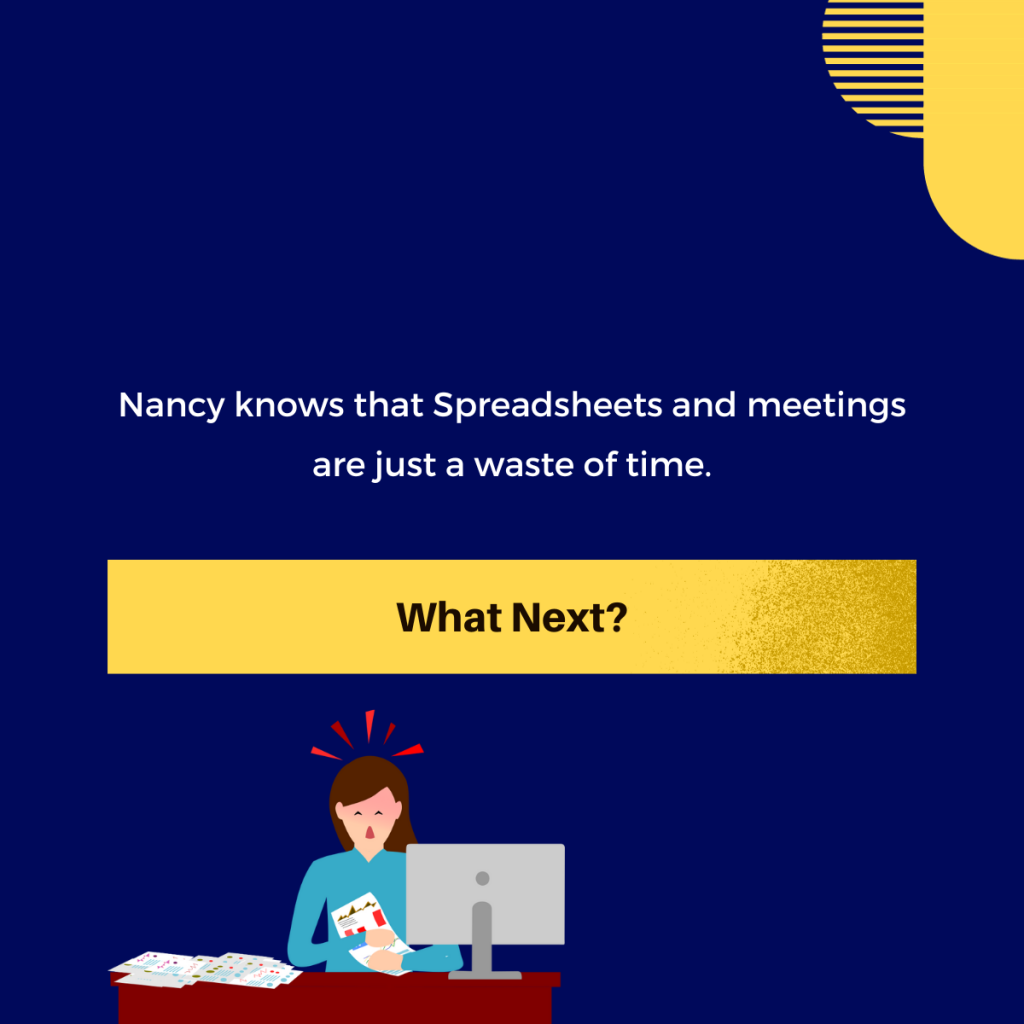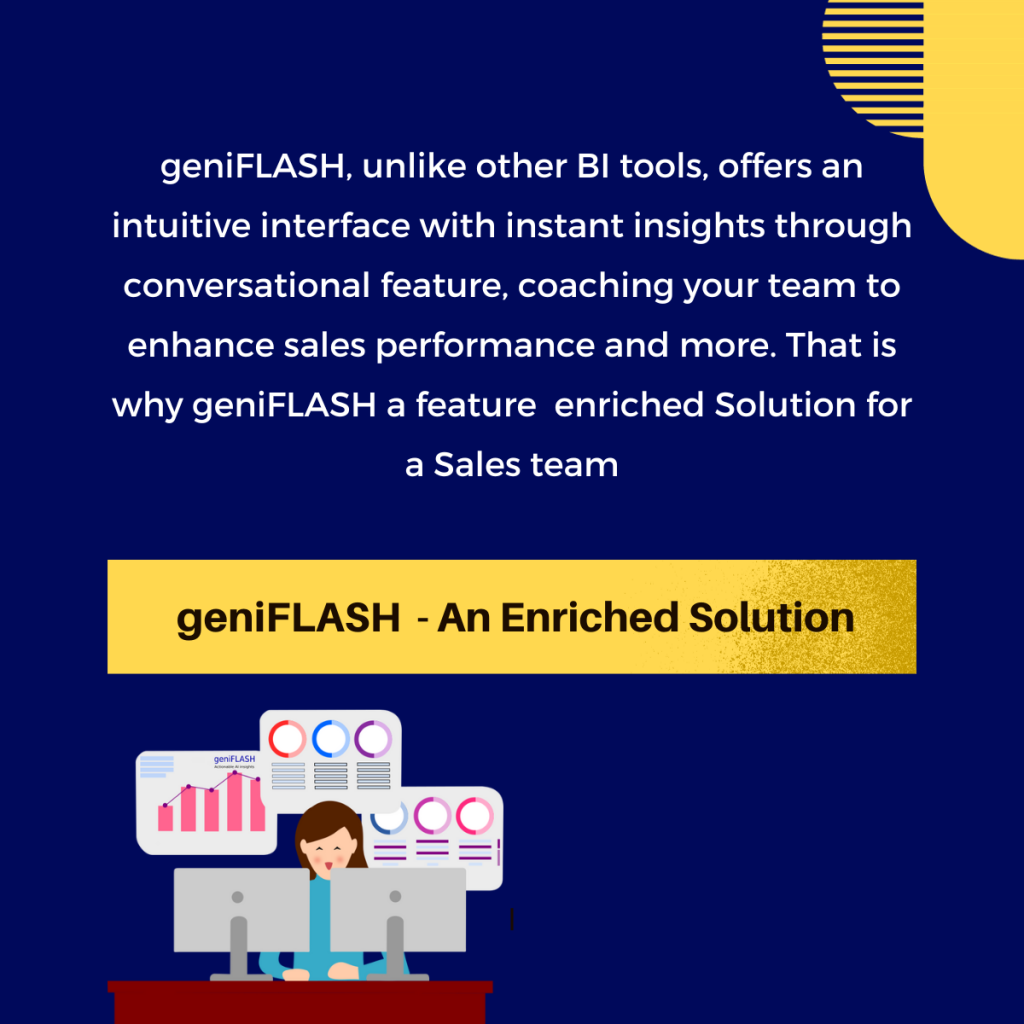 ---