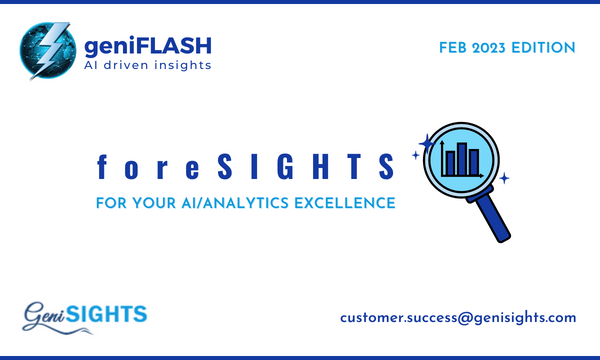 Dear Valued Readers,
Welcome to our second edition of foreSIGHTS newsletter for this year.
In this edition, we would like to highlight the following topics:
What's trending? Chat GPT vs Google Bard – Both are leading the field, but the future remains to be seen. Who will come out on top in the future of AI?
Featuring geniFLASH Freemium: Easily analyze data and make informed decisions with geniFLASH Freemium's user-friendly interface and AI-driven insights.
geniFLASH Updates: V S Shridhar joins geniFLASH as a mentor as part of GOI's Nidhi accelerator program
geniFLASH Interactive session: The geniFLASH AI team had a successful interactive session with the Renault leadership team AI team at IIT Madras Research Park to discuss deployment possibilities
Fun Corner: Writing made easy with ChatGPT, digitiser and pen plotter. Bye bye hand cramps, hello cat videos.
We hope you find this edition informative, and we look forward to connecting with you soon!
Best Regards,
Team geniSIGHTS
---
What's trending? Google Bard vs Chat GPT
Artificial Intelligence (AI) is a rapidly growing field that is rapidly changing the way we live and work. Chat GPT, developed by OpenAI, is a highly successful language model known for its ability to generate human-like text. Google has now entered the competition with the launch of Google Bard, its own language model. These technologies have been making headlines in recent years, and it's no wonder why.
To see how these models are impacting the industry, we conducted two LinkedIn polls.
The first poll, which was conducted before the launch of Google Bard, asked how the use of AI-powered language models like Chat GPT has impacted the way people interact with customers or make business decisions. The results were clear, with 73% of respondents reporting a positive impact from using Chat GPT. You can see the results of this poll by clicking the link attached here.
First LinkedIn Poll:
https://www.linkedin.com/feed/update/urn:li:activity:7027138568946913280
Now, with Google Bard on the scene, we wanted to see who would come out on top in the battle between these two language models. That's why we created a second LinkedIn poll asking which model will win the battle. The poll is still open, and we invite you to cast your vote and have your voice heard. Visit the below link to vote in this poll and see what others think. Who will come out on top? Chat GPT or Google Bard? Cast your vote now!
Second LinkedIn Poll: https://www.linkedin.com/feed/update/urn:li:activity:7029712088444915712
---

Featuring geniFLASH: Introducing geniFLASH Freemium to experience AI driven Actionable insights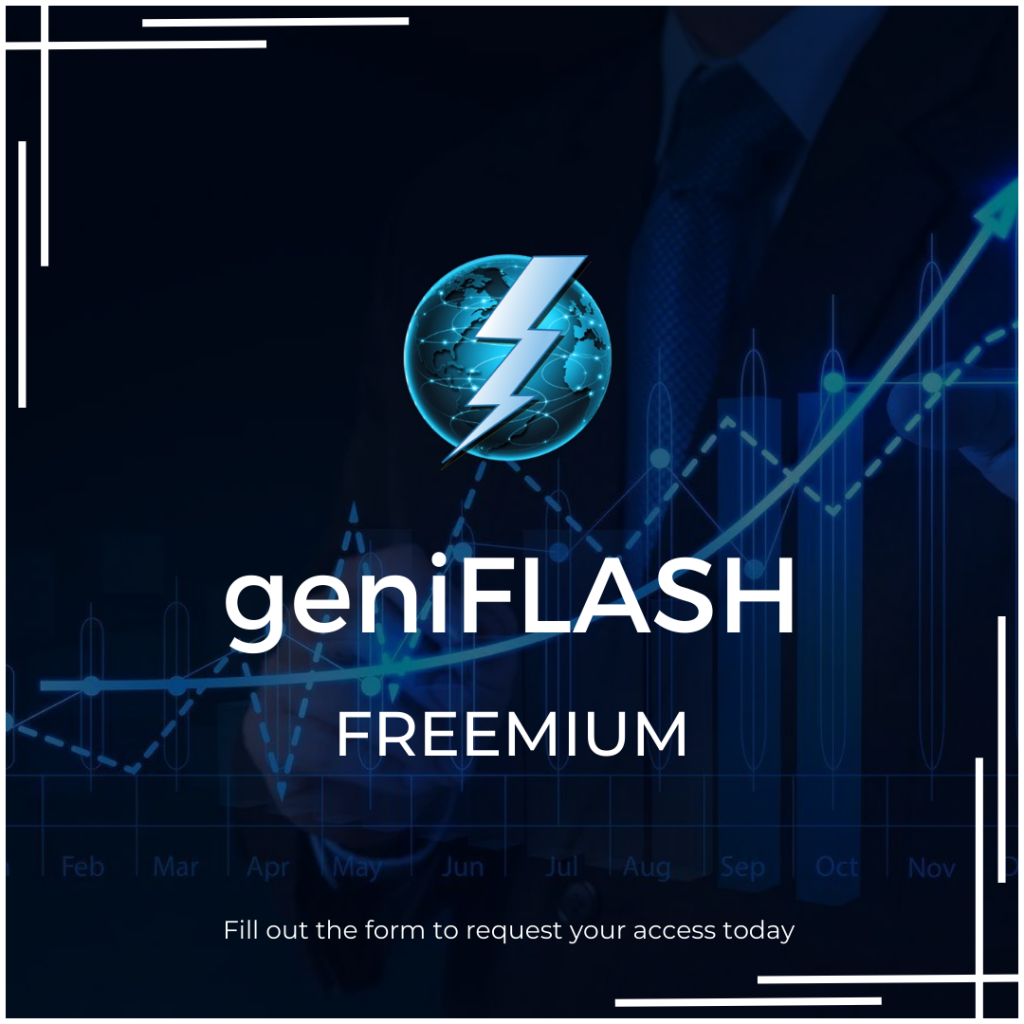 geniFLASH has launched its Freemium version – a tool designed to make data analysis effortless. With its user-friendly interface and intuitive search menu, geniFLASH Freemium allows you to easily upload your data, search for insights, and visualize the results on a dynamic Flash Board.
Make informed decisions quickly with geniFLASH Freemium's conversational data analysis. Say goodbye to complex coding and technical expertise, and hello to lightning-fast insights.
Request access to geniFLASH Freemium today and revolutionize your data analysis process. Fill out the form https://lnkd.in/gb3eCaiS to get started on your journey towards faster, more efficient data analysis. Don't miss out on this opportunity to improve your organization's data analysis capabilities.
---
geniFLASH Updates: Welcome V S Shridhar!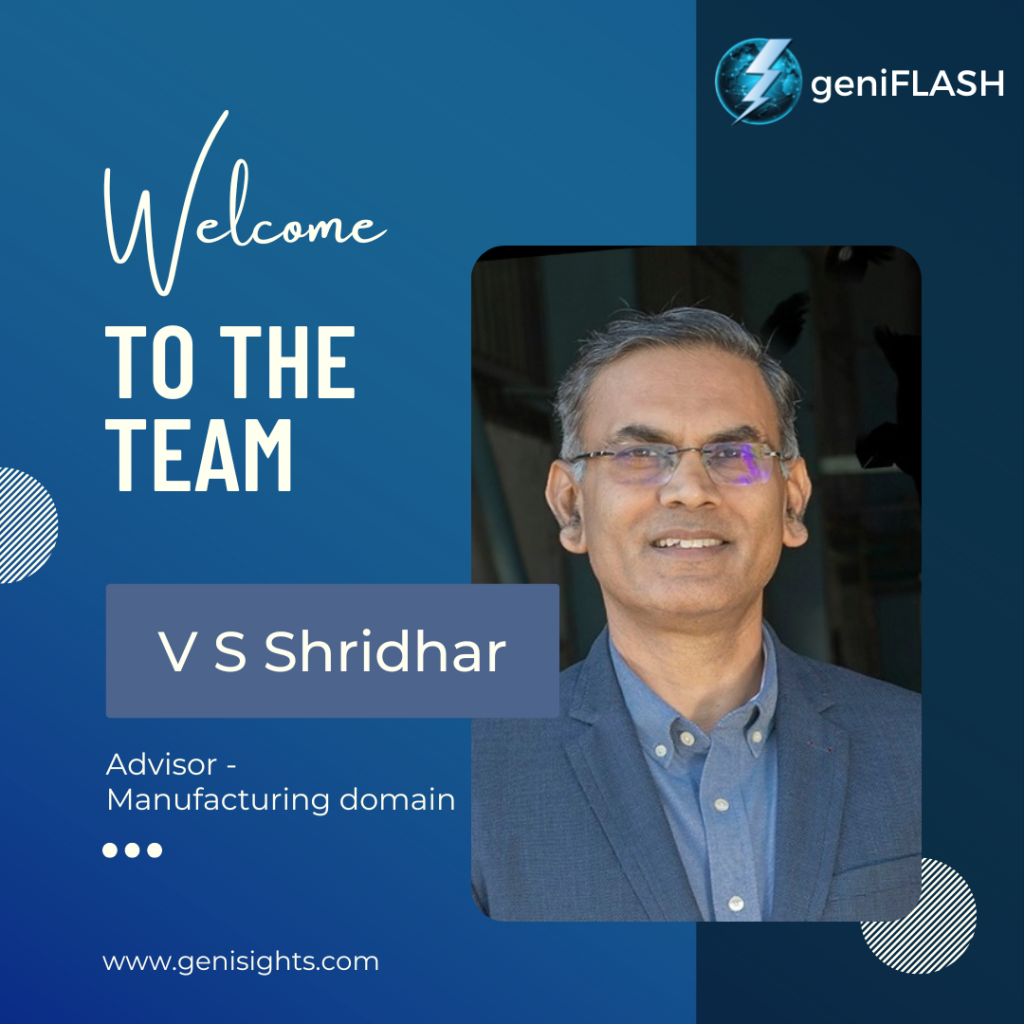 V S Shridhar is the Chief Executive Officer at GREENJOULES PVT LTD and has recently joined our team as an advisor under the Govt of India's Nidhi Accelerator program. With his wealth of experience and knowledge, we believe that we will achieve even greater success in the future.
Shridhar has been working in the field of sustainability and renewable energy for many years and has a deep understanding of the industry. His expertise and experience will be invaluable in helping us achieve our goals and drive our business forward.
We are thrilled to welcome V S Shridhar to our team and can't wait to see what we can achieve together.
---
Interactive Session with Renault Leadership team at IIT Madras Research Park (IITMRP): Captured Moments
A very good interactive session with Renault team at IITM Research Park. Our team showcased the capabilities of the geniFLASH AI connecting to specific potential deployment areas. Want to know how geniFLASH can solve your business areas? Write to customer.success@genisights.com for a demo
---
Fun Corner
Assignment Prodigy: Write with ChatGPT and Digitizer-Pen Plotter Duo
Gone are the days when writing assignments was a time-consuming task. Thanks to AI technology, students can now have their assignments done in a matter of minutes with the hilarious ChatGPT and the digitiser-pen plotter duo. ChatGPT, created by OpenAI, is an AI language model that can write content with ease. Just ask, and it will provide you with a well-written, informative and entertaining piece.
But what if your professor doesn't accept digital copies? That's where the digitiser-pen plotter duo comes in. A digitiser digitises content and a pen plotter prints it on paper, giving you a beautifully written paper, without the hassle of hand-writing it.
The combination of ChatGPT and the digitiser-pen plotter duo saves you time and effort, allowing you to focus on your studies. So why wait? Write assignments with ease, speed, and efficiency with this winning formula. Who knows, you might even have a little fun in the process.
---